How to Pick A Wedding Dress: The Ultimate Buying Guide for 2020
Choosing the perfect dress for your special day can be overwhelming. With endless styles of dresses from different types of stores, it's hard to know where to begin.
We hope this guide will leave you feeling more informed about dress styles, fits and options so you can hit the ground running and feel confident while dress shopping. After all, this is probably the most important gown you'll ever buy.
How Do I Choose a Wedding Dress?
To start, find images of dresses you like online and in magazines. Pick out a few common themes of those dresses. Is there a lot of embellishment or mainly plain, chic fabric? Curve-hugging silhouettes or grand ball gowns? Once you pick out a few aspects that you gravitate towards, you'll be ready to start shopping for your very own gown.
Types of Wedding Dress Styles
Wedding dress style is a direct reflection of the bride's personality and the tone of the wedding. While you might find the lacey boho dress of your dreams, if your venue is more traditional, you might want to choose a dress that fits that location and save the boho style for your honeymoon. Perhaps an embroidered V-neck gown with a full skirt would be a great compromise between the sexy boho dress you have your eye on and your more conservative venue.
Whichever style you choose, it's important to be you and capture your personal taste while still fitting the ambience of the day. Here are some options for you to consider and gain inspiration from.
Vintage Boho Wedding Dresses
Trend alert: boho wedding dresses. You've probably seen them all over instagram — the perfect "cool girl" effortless dress for a romantic desert wedding, an elopement in the mountains or a tropical bash on the beach. Plenty of top wedding dress boutiques are offering this style, including online shops. Brides can even find handmade, one-of-a-kind boho wedding dresses on Etsy.
What are the features of a boho-style dress? Romantic elements, flowy lace, scalloped edging, whimsical tassels, intricate patterns and other hippie-influenced details. Floral headpieces, bold shoes and slightly undone hairstyles work great with a boho theme.
What Are the Different Silhouettes of Wedding Dresses?
The silhouette of your wedding gown will help set the tone for the day. A grand ball gown will give off fairytale vibes, while a sleek sheath gown will have a modern feel.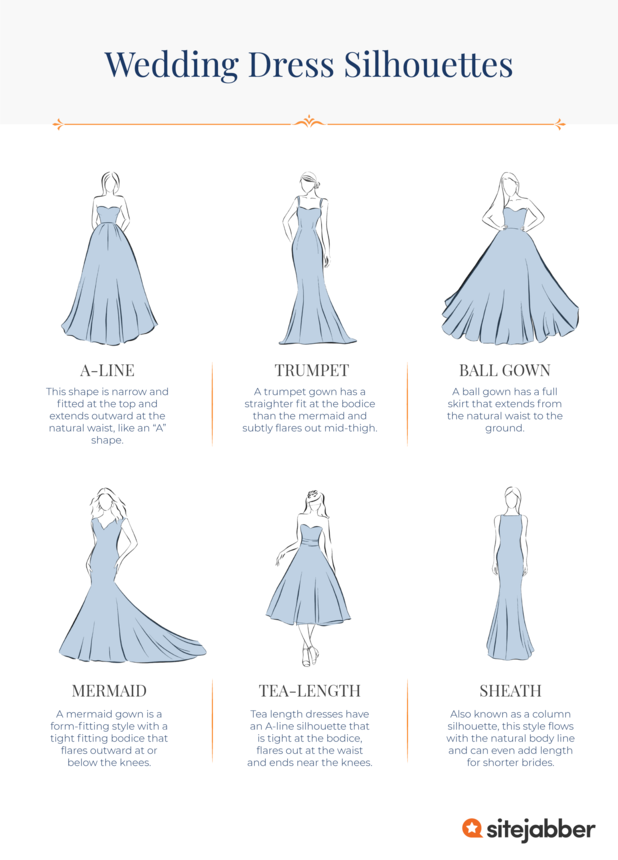 A-line Silhouettes
This shape is narrow and fitted at the top and extends outward at the natural waist, like an "A" shape. This cut is very popular because it's comfortable and flattering on most body types. Brides can find many different styles of A-lines, from heavily embroidered and lacey to modern and chic.

Tip: Many silhouettes look much better on a body than on a hanger, especially sheath styles that must cling to a body to give it shape.
Wedding Dress Styles by Body Type
Ultimately, you can wear any style of wedding gown you're comfortable in. If you're a bride in need of some suggestions or feeling overwhelmed with options, here are some tips for finding the most flattering silhouette for your body type.
Best Wedding Dresses for Short Brides
Best Fit: Trumpet, A-line, Sheath, Tea Length
Short brides can feel overwhelmed by too much fabric — like they're "drowning in the dress." For this reason, ball gowns are probably not a good option. To get the same "feel" as a ball gown on a shorter figure, try an A-line dress with some layering at the skirt. It will have a similar traditional look without being overwhelming. Sheath or column dresses are flattering on short brides because they have a lengthening effect. The fabric is fitted to the body without flaring out at the bottom, creating an optical illusion of added height. A shorter tea length dress, about knee length, can be a playful look on short brides.
What is the Best Fabric for a Wedding Dress?
The fabric of your wedding dress is more important than you may think. It determines the cost and comfort level, and it can completely change how the silhouette looks. For example, thicker fabric is great for a winter wedding, but it might weigh you down if you have an outdoor wedding during the summer.
Charmeuse Wedding Dresses
Charmeuse is a lightweight satin weave that is typically glossier than regular satin. It is flowy but not sheer — some even describe it as an "old Hollywood" look. This romantic fabric would be perfect for a cozy winter wedding or a sexy summer elopement dress. Many sheath silhouettes are made of this figure-hugging fabric.
Chiffon Wedding Dresses
This light and airy fabric is typically found on the sheer, flowy skirts of wedding gowns or on the top as an outer layer. It has a whimsical feel and is found in many styles of dresses — most typically A-line, empire waist, sheath and trumpet.
Crepe Wedding Dresses
This lightweight silk fabric has a crisp, clean look and is slightly thicker than most dress fabrics. It's perfect for added coverage with form-fitting gowns or for warmth during a cold-weather wedding. Sheath, trumpet and mermaid gowns look stunning with this fabric.
Mikado Wedding Dresses
For our winter brides, mikado, a heavy silk blend with a subtle sheen, could be perfect. It allows for a full skirt look while being sleek and almost silky, rather than light and wispy like organza.
Organza Wedding Dresses
For the bride that wants a full ball gown or a mermaid skirt with a lot of volume, organza is your go-to. This sheer fabric holds its shape a little more than chiffon will, creating a fuller look while maintaining its sheer look.
Satin Wedding Dresses
Satin, usually of silk, is a classic and romantic choice, typically found on A-line, mermaid and trumpet gowns. This smooth, glossy fabric is on the heavy side, but can still be flowy at your feet and train. It is appropriate for most wedding styles but has a formal feel.
Taffeta Wedding Dresses
Taffeta, which has a crisp, regal feel, is a great way to get a traditional look for a summer wedding because it's lightweight even though it looks heavy.
Tulle Wedding Dresses
Tulle, the same fabric that tutus are made from, can be a very important aspect of a wedding dress, especially in ball gowns. The full skirt of these dresses is often made of this lightweight, stiff netting that holds its shape to create volume. This is a popular fabric for bridal veils as well.
How to Choose the Color of Your Wedding Dress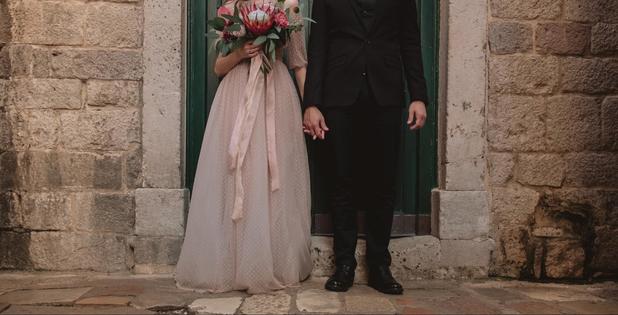 Today, brides are lucky enough to have a rainbow of dress colors to choose from. A good rule of thumb is to be sure that your color will keep you happy for years to come. You'd hate to look back at your wedding pictures in 20 years regretting that trendy dress you just had to have.
What Does This Wedding Dress Color Symbolize?
Shades of white are certainly the most popular in the U.S., but there are a range of colors with their own symbolic meanings to choose from. Below are some of the most notable color options that are trendy and/or appear in weddings around the world.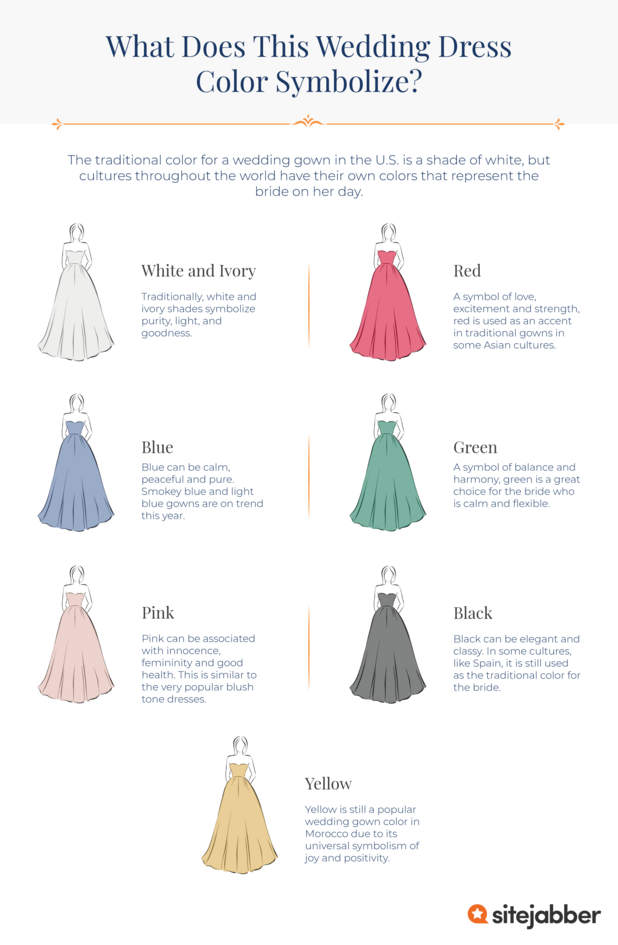 White and Ivory
Traditionally, white and ivory shades symbolize purity, light and goodness.
Red
A symbol of love, excitement and strength, red is used as an accent in traditional gowns in some Asian cultures.
Blue
Blue can be calm, peaceful and pure. Smokey blue and light blue gowns are on trend this year.
Green
A symbol of balance and harmony, green is a great choice for the bride who is calm and flexible. It is the traditional color of Wonsam, a ceremonial topcoat for Korean brides.
Yellow
Yellow is still a popular wedding gown color in Morocco due to its universal symbolism of joy and positivity. Mustard yellow is a trendy statement color for outdoor elopement dresses this year.
Pink
Pink can be associated with innocence, femininity and good health. This is similar to the very popular blush tone dresses.
Black
Black can be elegant and classy. In some cultures, like Spain, it is still use this as the traditional color for the bride.
While these, of course, aren't all of the possible colors for a wedding gown, they are some of the most notable from around the world.
Most Popular Wedding Dress Colors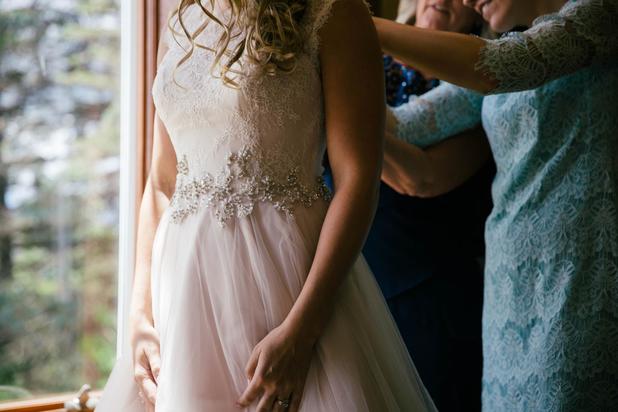 Blush Wedding Dresses
Blush is a new trend that is flirty and fun, while still being slightly traditional. It can look amazing with certain color schemes, like golds, whites and even navy blue. If an entirely blush gown is too bold for you, try a white, fitted bodice with a blush colored tulle or organza skirt.
Champagne Wedding Dresses
Champagne is a glitzy choice, perfect for that New Year's Eve wedding. Paired with an organza or tulle skirt, it could be great for an outdoor shabby chic wedding. These dresses are typically embroidered with sparkling gems or beading, making them truly shine. For a vintage look, bright white lace is laid over the champagne color for a beautiful effect.
Ivory Wedding Dresses
Ivory is a great compromise to keep your gown color traditional while finding a tone that better complements your skin tone. Bright white can be harsh on anyone, especially if your venue has bright lights, so some brides find that a more subtle shade like ivory is the perfect fit.
Pops of Color Wedding Dresses
Why not stand out on your big day? If the thought of an all-white or subdued color is boring you, there are plenty of other options. One way to add some color is choosing a subdued overall color and adding colored embroidery like flowing flowers or bold lace to the bodice or skirt.
Bold-Colored Wedding Dresses
Looking for all-over bold color for your wedding gown? From beautiful yellow wedding dresses in the desert to smokey blue organza gowns in the mountains, there is a perfect color for any location.
A black tie wedding in the city could be perfect for a sleek, black A-line gown. Choose a color that best represents your personality while still matching your venue and theme. Need some help? Ask your photographer, planner or someone else who knows your venue what color they would recommend as a good fit.
How Do You Pick a Wedding Dress Neckline?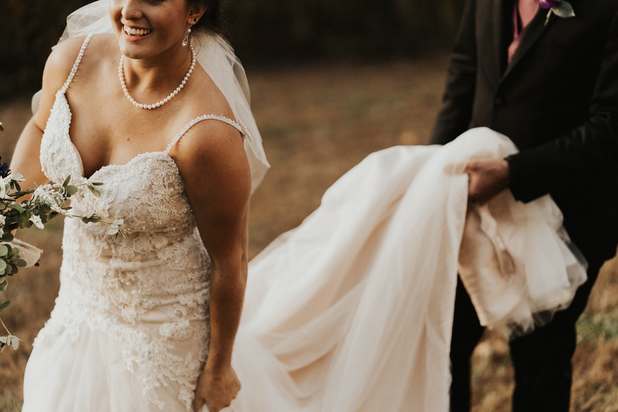 Luckily, most silhouettes can be found with any style of neckline. Check out the necklines of your favorite tops and dresses and see what styles they have — that will be a good indication of where to start. Keep in mind, the style of neckline will completely change how a dress looks, so it's great to have a few styles in mind before you start shopping.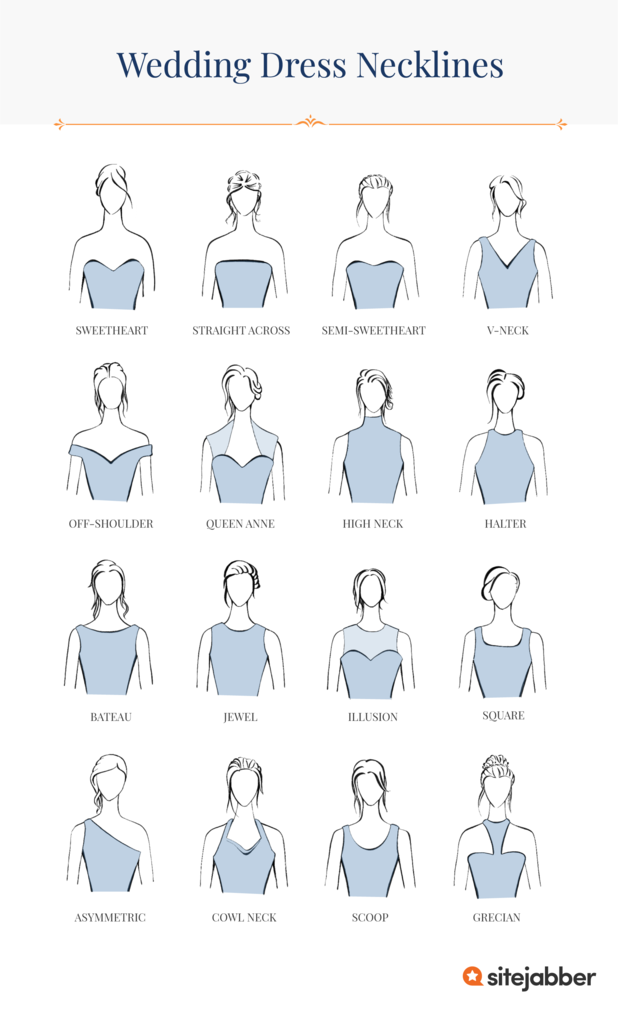 Asymmetrical Neckline Wedding Dresses
If the traditional necklines don't interest you, maybe something more unique is your style. A one-shoulder strap with an asymmetrical neckline is a modern twist, perfect for that art museum or industrial loft wedding reception.
Bateau and Sabrina Neckline Wedding Dresses
Elegant and timeless, this wide neckline will show off your collarbone and neck in a conservative manner. Also known as the boat neck, this style is beautiful on any silhouette, including ball gowns and trumpet dresses.
Cowl Neckline Wedding Dresses
A cowl neckline is an older style that has recently made a comeback. It has romantic, loose draping in the front that looks great on charmeuse dresses.
Grecian Neckline Wedding Dresses
The unique look of the Grecian neckline is characterized by a piece of fabric on the center of the chest that opens up around the neck with a deep indent by the shoulders. This pairs well with flowy sheath and A-line dresses.
Halter Neckline Wedding Dresses
For a less intense high-neck look, try a halter neckline. This modest cut opens at the base of the neck and is a great way to show off your shoulders.
High-Neck Neckline Wedding Dresses
A high-neck dress is perfect for a modest look and can be surprisingly modern with a chic fabric like crepe. This cut is great for a winter wedding when paired with lace sleeves.
Illusion Neckline Wedding Dresses
This neckline is perfect for the bride who has always dreamed of a strapless gown, but is afraid of the possible consequences (slippage). This netted, sheer fabric creates the illusion of bare skin, while still being secure and supportive. Illusion necklines are sometimes embroidered with intricate lace — a gorgeous way to keep an otherwise fragile design in line.
Jewel Neckline Wedding Dresses
The opening of this neckline is similar to that of a crew neck T-shirt, and the straps are typically thick, but not quite capped sleeves — think muscle tank. This style can accentuate toned arms beautifully.
Off-Shoulder Wedding Dresses
This common neckline is great for a bride who wants to show off her shoulders and collarbone. Typically, this style will be straight across the upper chest or in a sweetheart shape, with sleeves hitting below the shoulders. This is a romantic look and works well with a lot of wedding styles.
Queen Anne Neckline Wedding Dresses
The Queen Anne neckline is an elegant combination of a high collar at the back of the neck with a scoop or V-neck in the front. It's perfect for the bride striving for that princess look.
Scoop Neck Wedding Dresses
Another classic, this neckline is found on many silhouettes of dresses. It scoops down in the front, showing off the upper chest.
Square Neckline Wedding Dresses
This neckline is commonly seen on dresses with sleeves and straps. It creates a square shape across the upper chest and is usually more conservative than a scoop neck or V-neck.
Straight Neckline Wedding Dresses
This modern style typically falls in between the collarbone and bust and is cut straight across. Commonly found on strapless or spaghetti strap dresses, this neckline is perfect for any style of wedding.
Sweetheart Neckline Wedding Dresses
A classic and romantic choice, this neckline typically comes on many different styles of silhouettes and with or without sleeves. This neckline is great for accentuating curves on your upper body, as it dips down in the front, resembling the shape of a heart. A true sweetheart will come down into a sharp heart shape while a semi-sweetheart will be a slight downward curve.
V-Neck Wedding Dresses
This features a deep "V" shape down the chest and can be conservative or deeply cut. It is increasingly popular with A-line silhouettes, as it adds drama and sexiness to the design. This look is especially flattering on petite women to elongate the torso.
Understanding Wedding Dress Sizes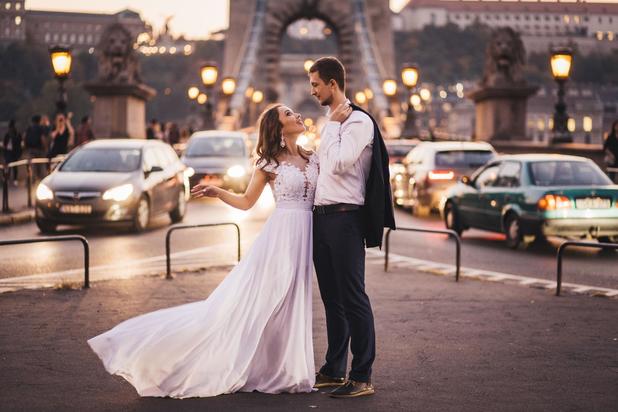 Wedding dress sizes are unique. They typically run much smaller than "street" sizes by about one to two — and sometimes three — sizes. For example, a bride who wears a street size 8 might wear a 10 or 12 in wedding dresses. So don't panic while shopping! Every bride has to size up for their dress.
This difference is especially important to remember when ordering a dress online since you can't try it on first. Be sure to check their size charts, or you could be in for a big surprise.
How do I buy a wedding dress when losing weight?
This can be tricky, but it's important to be realistic about how much weight you plan on losing. Typically, dress consultants will suggest that you purchase the dress in the size you are now and then get it altered. Even if a bride isn't losing weight, it is common to have at least two dress fittings before the wedding.
Do all wedding dresses need to be altered?
More often than not, a wedding dress needs to be altered even if it's just shortening a hemline or taking it in at the bust. Finding an awesome place for alterations is important. If your bridal shop doesn't provide the alterations, ask if they recommend anyone in the area. Typically, they work with a few local businesses they direct their brides to.
How do I buy a wedding dress if pregnant?
Working with a boutique in-person is preferable if you are pregnant, as they can make adjustments as you grow to ensure that your baby bump will fit into your dress. You'll be working with your dressmaker or seamstress closely during this exciting time.
When Should You Buy Your Wedding Dress?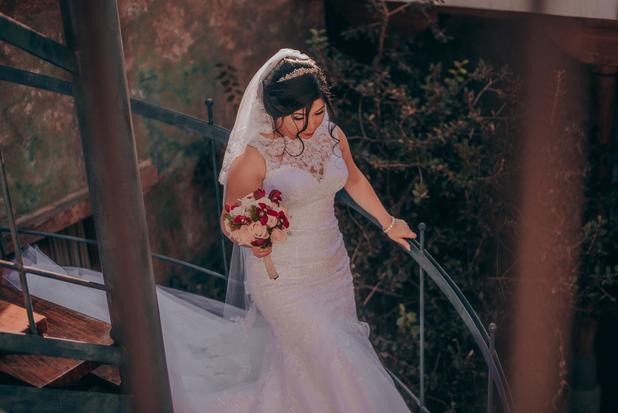 This varies, but for the typical bride, you don't want to cut it closer than six months before your wedding date because shipping and alterations can take some time. Expedited shipping and alterations will cost extra.
You can purchase a dress as far out as you'd like, but be aware that your style preferences could change if you're purchasing a year or more ahead of time. Your wedding date or venue could even change if it's that far out.
How Much to Spend on a Wedding Dress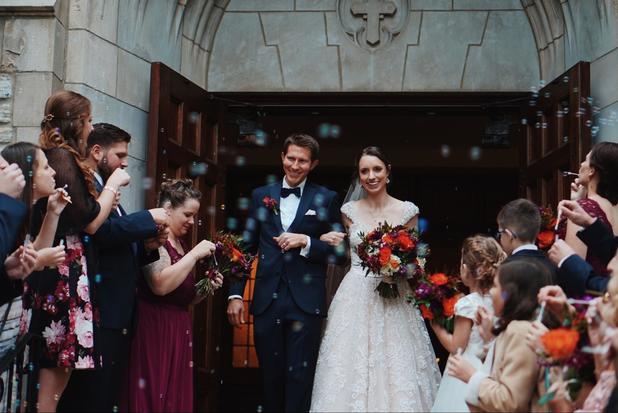 According to The Knot, the average wedding dress cost in 2018 was about $1,600.
That $1,600 gown average is about 4% of the national average wedding cost, which was about $44,000, according to Brides 2018 American Wedding Study.
It is very possible to find your dream dress without spending $10,000 like they do on the TV shows. Your gown budget should be proportional to your overall wedding budget.
Remember: It's not only a gown that you're purchasing. You will need alterations, usually with multiple fittings, and any additions like a belt, buttons, more beading or embroidery. Bridal accessories like shoes, a veil or headpiece and jewelry will add up quickly. Keep all of this in mind when deciding on your final dress budget.
Average Cost of Wedding Dress Alterations
Some bridal shops include alterations, some charge an extra fee and some will send you elsewhere. Be sure to ask about alterations before you purchase your dress so you know what to expect. Depending on the region and type of alteration, you can expect to spend anywhere from $75-$300 to upwards of $700 (or more) for a lot of changes. As with most personalized services, it varies greatly.
Average Cost of a Custom Wedding Dress
For the bride who wants a one-of-a-kind dress, a custom order could be the perfect choice. This is also a great option if a bride wants a specific silhouette but can't find it with enough support or coverage for her body type. The price varies greatly depending on fabric, style and embellishments. Have a budget prepared before meeting with your dressmaker.
Rates can be hourly or per project, depending on the dressmaker. It will be rare to have a gown custom-made and come in at under $1,000. Typically, a less embellished custom gown will be around $1,000-$2,000 and a more elaborate or silk custom gown will start at $2,000-$5,000 and can increase dramatically depending on fabric type and other embellishments, according to CostHelper.com.
Brides should keep in mind that the process can take six months to a year or longer. A custom dress also requires more fittings than a regular dress — sometimes as many as six or more — because it is made just for your body.
How Can I Save Money On My Wedding Dress?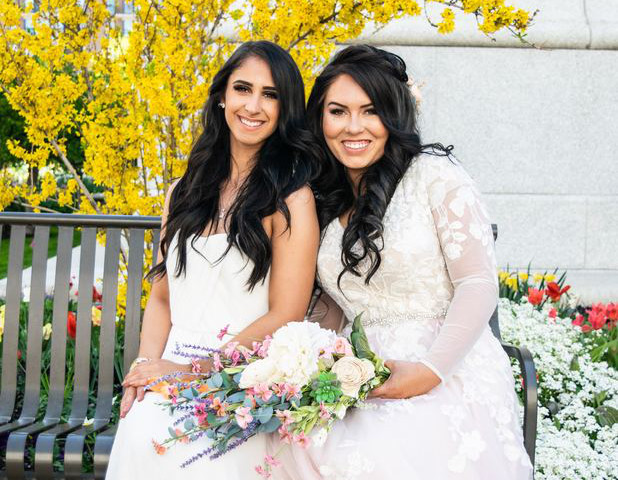 There are plenty of ways for brides to save money on the gown of their dreams. From adjusting your timeline to getting creative with alterations, we have some great tips to save you some cash. Remember — just because it looks expensive doesn't mean it was expensive.
Start Shopping Early
Save money by starting your search early. This allows you to create an album of inspiration photos to have on hand while shopping. The overall experience will probably be more enjoyable if you aren't rushing to meet a deadline. Start browsing about a year before your big day.
Browse Trunk Shows
Trunk shows are a great way to snag a discount, just from being in the right place at the right time. Bridal shops will feature a certain designer and, in turn, offer you a discount on that gown for shopping that day.
Shop a Sample Sale
Sample sales are a way for bridal shops to sell excess inventory and give brides a great deal. These dresses are sold off the shelf at a steep discount, sometimes starting at $100. You'll often find samples in common sizes because they were the dresses on the sales floor. Be aware that some boutiques will have you buy them as-is, so you will need to pay extra for alterations and any repairs needed due to it being a former sample.
Skip the Frills
Dresses without a lot of embroidery and beading are less expensive. You can add a beaded belt or sash to a plain dress to jazz it up instead of buying a very expensive gown with a lot of bling.
Purchase From Last Season
Last season's gowns will typically be discounted. Check out your favorite designer's website where they'll list by seasons; then, call your local bridal boutiques to see if they have any of those gowns in stock — or find an online retailer. No one will know that it's last season except for you.
Ask for a Discount
Ask about any discounts (eg. military) or special promotions. Some boutiques will give you a gown discount for buying during your first visit, or they'll give you a discount on accessories like a veil or shoes just for buying your dress there.
Buy or Rent Online
Check online shops like PreownedWeddingDresses.com for amazing deals — and you can sell your dress there after your wedding if you're looking for some extra honeymoon cash. Many dresses sell for 50% off the original price — or more — on these sites. If you won't be emotionally attached to your wedding gown, renting a dress is another great option.
Buying Wedding Dresses in Store
Book an appointment! Do this online or over the phone. Some bridal shops will ask a lot of questions, like how many are in your party, if this is your first time shopping, what style of dresses, the date of the wedding, the venue, your Pinterest wedding board, price range, etc. This is all done to help them prepare for your appointment so that you can maximize your time together.
What to Take With You to the Store
It's a good idea to take the color that your significant other will be wearing with you for dress shopping, especially if you'll be wearing traditional white. This helps ensure that your white doesn't look more yellow or gray than you expected it to be. This is especially helpful in weddings where the significant other is wearing a special uniform or if they are also wearing white.
Take the shoes you'll be wearing on your big day, or an approximate heel height. This is especially important when you start alterations.
Wear appropriate undergarments. That hot pink bra could totally kill the look of an otherwise beautiful gown if it is slightly sheer.
Buying Wedding Dresses Online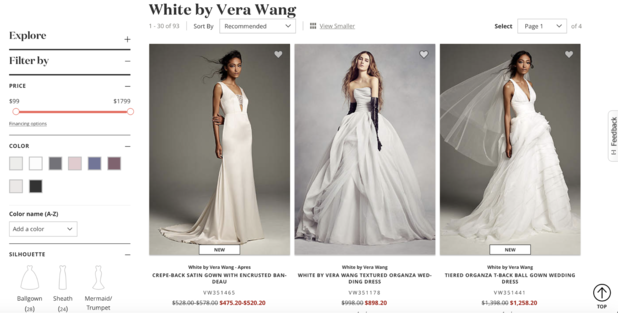 Vera Wang
There are plenty of benefits to buying wedding dresses online, but there are a few drawbacks. Convenience is a major benefit, but is it worth certain sacrifices?
Shopping online can save up to 50% of the cost that would be incurred in a physical store. This is mainly due to bridal shops making up for all of the costs of running a traditional store.
Some brides love this method because of how convenient it is to browse through a list of dresses on models, rather than just seeing it on the hanger in the store. Sometimes, dresses look completely different on the hanger than on a person.
This method can be good for brides who have already tried on certain dress styles but can't find "the one." If you already know what fit you want, you might be able to then find the specific design online.
For brides who have never tried on wedding dresses before, online shopping can actually make things harder because you might not know what style of dress looks best on you or which styles you don't like.
When ordering, choose a size up if you are unsure or between dress sizes, then take it to a good seamstress to get fitted. It's much easier to take in fabric than to make a dress a bigger size.
Trusted Online Wedding Dress Sites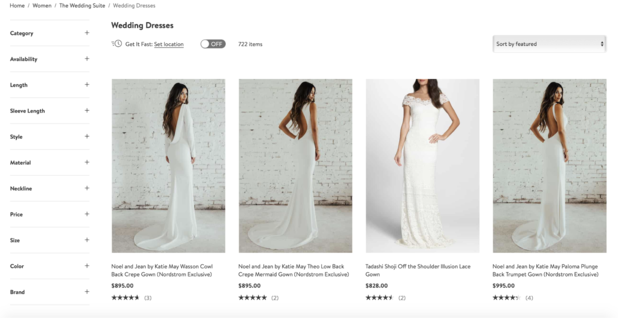 Nordstrom
Beware of online scams. It's unfortunate, but fraudulent sites prey on customers who don't have a lot of experience with online purchases. If you aren't so savvy about common wedding dress brands and prices, this could happen to you.
Luckily, there are plenty of reliable wedding dress sites that brides love.
The popular designer Vera Wang offers a selection of trendy gowns online through David's Bridal. Be aware that there is usually a few months wait for delivery — but those gorgeous gowns are worth it.
Nordstrom sells a variety of stunning designer gowns online and in stores at their Wedding Suite.
Kleinfeld
The famous bridal shop has an online store, Kleinfeld Bridal Party, with a selection of online-only styles.
Your Favorite Designer
Ever look up the designer of your favorite gowns? Many brands are starting to sell their dresses direct to consumer online. Check out Made With Love and Grace Loves Lace — two beautiful Australian brands.
Affordable Wedding Dresses Online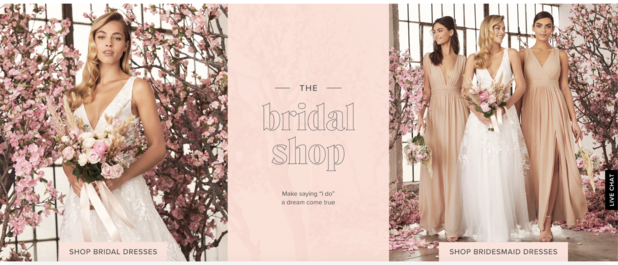 Lulu's
Finding a discounted wedding gown is easier than you think thanks to online retailers. Remember to read reviews before you purchase a gown that's steeply discounted to avoid a scam. Here are some trusted choices for affordable wedding gowns online:
David's Bridal (reviews)
This popular wedding gown chain has a buy online option, too. All dresses are under $2,000.
Azazie
With high-quality dresses at affordable prices, Azazie offers sizes 0-30 and free custom sizing with a price range of $199-$700.
Check the reviews before you purchase from a seller on Etsy. If you find lots of happy customers, you're likely to get a great deal on a beautiful, handmade gown.
The trendy online shop Lulus now offers wedding gowns for $260 and under. Perfect for an elopement, beach wedding or laid back outdoor bash.
Preowned Wedding Dresses Online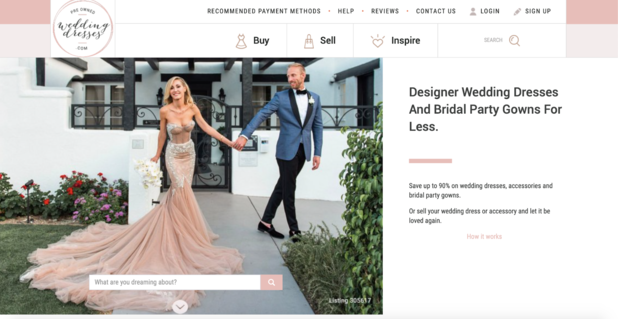 PreOwnedWeddingDresses.com
A great way to find a designer gown at a fraction of the price is to look for a preowned dress. The dress was either worn once and then cleaned, or the bride changed her mind on the style and didn't even wear the dress.
There are two things to keep in mind when purchasing a used item. Make sure the seller provides you with clear photos and descriptions and check that the site offers buyer protection.
PreOwnedWeddingDresses.com
Brides buy and sell new, used and sample gowns through PreOwnedWeddingDresses.com where you can save up to 90% off the original cost of the gown.
Poshmark isn't strictly for bridal gowns, but there are plenty of listings on the site, which also offers buyer protection with purchases.
Borrowing Magnolia (reviews)
Brides can buy and sell beautiful preowned designer wedding gowns at Borrowing Magnolia, and they even accept returns.
Online Buying Tips
Check the reviews on their website or Google (or other search engine) reviews.
Search the company and see if any complaints have been filed.
Check to see if they have an Instagram or other social media page that is active with happy buyers.
Message or email the company before you buy to make sure that they respond.
Find more wedding gown website reviews at Sitejabber.
Where Can I Rent a Wedding Dress?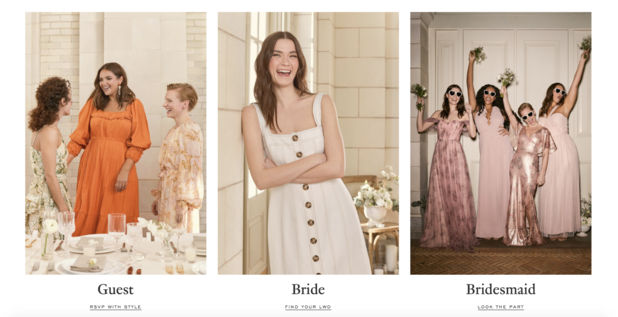 Rent the Runway
If you're not sentimental about keeping your wedding dress after your big day, renting it might be the right choice for you. Rental options are limited, but if you can find your dream dress among them, you can save hundreds, or even thousands, of dollars.
What Does it Cost to Rent a Wedding Dress?
Typically, it costs around $100 to rent a wedding dress, but this can vary. Some local shops have prices starting at $50 for short gowns. Be aware that shipping can be expensive depending on your location.
Rent the Runway (reviews)
A very popular choice, Rent the Runway sends two size options for the price of one, easing some of the worries about renting a dress. Their user-friendly ordering system is a huge plus.
Lending Luxury
Lending Luxury has a small bridal gown selection. All dresses have a buy now option where you can decide to purchase after you've rented for an additional cost. Keep for five, 10 or 15 days and send back, no dry cleaning required.
Happily Ever Borrowed
Happily Ever Borrowed offers bridal accessories at 10-20% of the retail price. Everything you need for your big day, including veils, jewelry, headbands, hairpins, belts and sashes, are available to rent.
Local Shops
This might be a surprise, but try a quick online search for "wedding dress rentals near me." Typically, these shops offer other formal wear rentals, alterations and of course, wedding dresses. If you have time, it might be worth a stop in to their shop to see if they have your size and style.
Conclusion
Whatever style of gown you choose, we want you to look and feel your best. Hopefully this guide has left you feeling more informed and "fluent" in wedding gown lingo. Now, go find your dream dress!